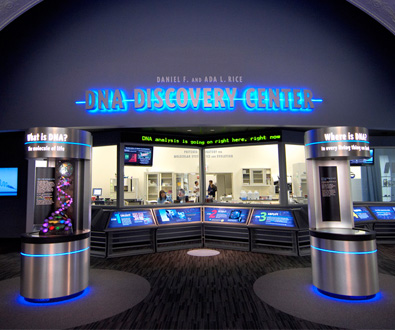 August 29, 2016
"Many people who visit museums don't realize that they can be like small universities engaging in hands-on, research projects and collaborating with scientists all over the world," said Kevin Feldheim, A. Watson Armour III Manager of the Pritzker Laboratory for Molecular Systematics and Evolution and The Field Museum in Chicago. We caught up with Kevin to learn how The Field Museum uses the MiSeq System to raise public awareness of DNA science and make new discoveries.
Tell me about your lab?
The Field Museum's Pritzker Laboratory is an inter-departmental multi-user core facility dedicated to genetic analysis and preservation of the world's biodiversity. It is shared by The Field Museum curators, staff members, students, and outside collaborators.
How did your DNA research program get started and what inspired you to purchase a MiSeq?
We study all different species from bacteria and fungi to plants and animals. When next-generation sequencing started to become more popular as a tool for scientific inquiry, we began thinking about how this technology could benefit our research. About three years ago, a dedicated donor offered us the resources needed to purchase a MiSeq. We knew that having the ability to analyze thousands of genes, and even sequence small genomes, would be useful in many disciplines.
How is the instrument used?
Our staff collaborates with scientists at local universities and institutions like The Morton Arboretum, Chicago Botanic Garden, and with researchers around the world. In addition to our own projects to better understand the species in our collection, their biology and interactions with other species in their respective habitats, the MiSeq is used by graduate students and postdoctoral associates working with our curators on a wide variety of projects.
What are some examples of projects where you have used the MiSeq?
There are many different projects going on at any given time. Here are a few examples that have used the MiSeq over the past few years:
A characterization of the bacteria found in the gut of ants
An assembly of the genome of coca, the plant used to produce cocaine
An examination of the evolution of birds from Madagascar
A conservation-focused study of the genetics of lemon sharks in the western Atlantic Ocean
What do you like about the MiSeq?
It is versatile, easy to use, and gives us a broad range of data we can work with. Our lab is unique in that we ask such a wide range of research questions, and we have scientists with varying levels of laboratory experience. The MiSeq is great because it is able to perform such various sequencing applications. The ease of use is also critical because in addition to our in-house researchers, it is used by experienced visiting scientists from all over the world and high school students.
The lab has windows so that museum visitors can see inside. How do these visitors react when visiting the lab?
We have a talk with a scientist every day from 11 a.m. until noon where museum visitors can talk with scientists doing research in our lab. We always get asked what we are working on, and visitors are fascinated to learn about what we are able to do in the museum. They are always surprised to hear how much genetic information we are able to collect, and how the data translates into answering bigger questions in evolutionary biology, ecology, and biodiversity.
Besides "talk with a scientist," what other educational programs do you have?
We have a variety of summer internships where students come to work in the DNA lab on research projects, including a DNA Residency Internship program every summer for high school students and teachers. The six-week program includes one week of training and five weeks of doing hands on work in our lab, collaborating with our scientists on their research. This year, the students in the program also led a group of eighth graders in a project to extract DNA from strawberries. Teachers participating in our programs also helped us develop an educator guide to The Daniel F. and Ada L. Rice DNA Discovery Center and a series of lesson plans on systems biology.
Photography by John Weinstein, © The Field Museum