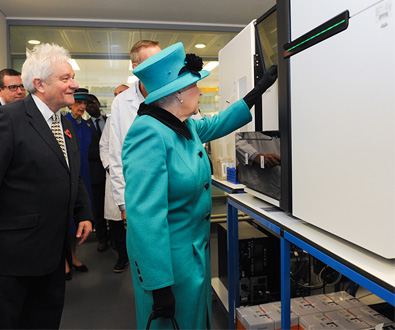 November 9, 2016
The Queen, accompanied by The Duke of Edinburgh, opened the new Francis Crick Institute in London and Her Majesty started the sequencing of Sir Paul Nurse's genome - all three billion letters in his DNA code - on Illumina's HiSeq 4000.
The Crick is the biggest biomedical research institute under one roof in Europe and is investigating the fundamental biology underlying human health and disease.
London has become a major hub for life science companies and continues to be a powerhouse for scientific innovation and research. The $800 million biomedical research facility has been almost 10 years in the making and the Crick is a vast new centre of medical research tackling the roots of everything from cancer and HIV to tuberculosis and neurodegenerative diseases.
Paul Nurse, director of the Crick, former president of the Royal Society and Nobel laureate, said: "It was a delight to welcome the Queen to our new building for the Francis Crick Institute and show her some of the science that we are carrying out to understand the human body better in health and disease."
He added: "As part of the visit, she sequenced my genome and we'll find out the results in the coming weeks. In our normal work at the Crick, we use this type of advanced sequencing to understand more about genetic influences on disease."
Paula Dowdy, Senior Vice President and General Manager of Illumina, EMEA said: "Illumina is excited by the opening of the Francis Crick Institute and the potential to improve human health through its research. Our sequencing technology is enabling studies that were not even imaginable just a few years ago, and moving us closer to the realization of personalized medicine."
The Crick is bringing scientists together from across disciplines to tackle the pressing health concerns of the 21st century. It will be home to 1,250 scientists and a further 250 support staff at full capacity in 2017.