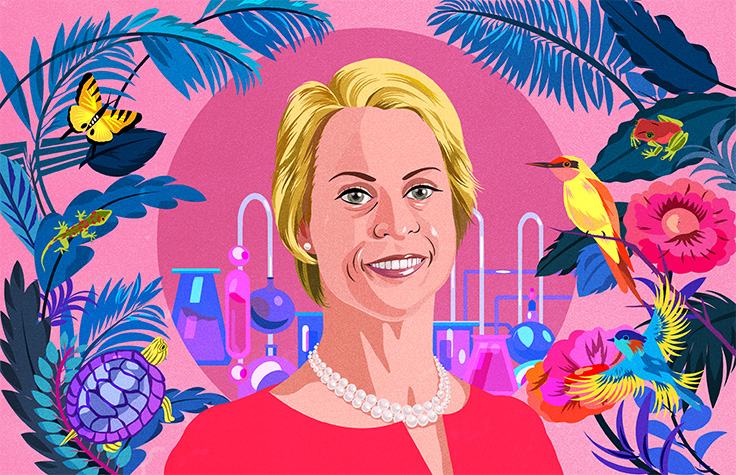 August 30, 2019
Listen to the complete interview with Dr. Frances Arnold:
"The ability of genomics to show our connection to the entire living world is such a remarkable revolution," said Dr. Frances Arnold. Dr. Arnold holds many distinguished titles – most recently, in October 2018 she became one of only five women to be honored as a Nobel Laureate in Chemistry for her venerable work in harnessing the power of evolution.
As a chemist, engineer and environmentalist, Dr. Arnold has woven an intricate web of passions and pursuits that have given rise to monumental scientific discoveries. Frankly, she's a modern-day Darwin. "I study evolution, and until now, we had not been granted access to the story of life," she starts. "But now, we can see the DNA that exists today and from that build the family trees that take us all the way back to the origin of life to see how we're all interconnected on this planet. I'm thrilled by the ability of genomics to help unveil the whole history of life."
Genomics enables us to unlock the DNA of virtually all living organisms. Today, genomics is harnessing its promise of helping solve some of the most challenging problems of humankind and inspiring new hope for people around the world. However, the field of genomics is vast. In order to capitalize on the benefits of genomics, we need to train the next generation of STEM (science, technology, engineering and mathematics) leaders to apply today's technologies for tomorrow's solutions.
If we're curious about our environment and want to know more about it, we'll also be curious about people and about how society works. If we use facts as the basis for making our decisions of how to interact in that world, we have a hope of making it better for the next generation."
We sat down with the constantly curious and indomitable Dr. Arnold and spoke about STEM education. As one of the top scientists of her generation, she trains students at the California Institute of Technology in Southern California.
"I try to inspire the young people that I interact with by sharing the joy of doing science," she said. "The process is just as interesting as the reward at the end. Practicing science every day is neither easy nor perfect, but the joy of discovery, and the joy of collaborating with a wonderful team, can make for a very satisfying career." Since science is rife with trials and tribulations, Dr. Arnold stresses two important traits for rising scientists – resilience and curiosity. "The desire to know and the desire to do something with that knowledge, either to share it with others, or to make the world a better place as a result" are some of the values that drive her work.
Dr. Arnold's love for nature and sustainability are contributing factors to her love of science. "What drives my work are the values of using science to make the world a better place," she said. "I've always been interested in problem solving, and the kinds of problems that I'm interested in solving are those that allow 10 billion people to survive on this planet and have it continue to be a beautiful place to live."
Following her undergraduate education at Princeton, Dr. Arnold began a career in mechanical engineering. Amidst a sea of male colleagues at the Solar Energy Research Institute in Colorado, she undertook various solar projects. By the 1980s, she saw the future of energy sources heading away from solar, so she took up a Ph.D. in chemical engineering at the University of California, Berkeley. "My mentors were all men," she says. "There were no women in mechanical engineering and then chemical engineering when I studied those fields." She did not find herself in the company of other female scientists until her research moved in a more biological direction. "I met some wonderful women scientists as I started studying biochemistry," she continued.
"I think science has changed tremendously in the past few decades because there are a lot more women doing it. More and more women are saying, 'Yes! I can do this. I see plenty of women doing it.' Science is a welcoming place for women; I'm glad to see that because women bring tremendous strengths and perspectives. They make up half of the brilliant minds on the planet, so it's good to have that extra half contributing."
As someone who draws inspiration from people who use their creativity for the common good, Dr. Arnold notes that whether male or female, our next generation of STEM leaders need to take risks. "Try not to do just the obvious next step, but to think deeply about the future and what will really change the way people think… to ask yourself, 'What do we need to jump out into the unknown?' Exploring the unknown is something that I want these brilliant young people to be comfortable doing."
Her hopes for the next generation center around curiosity. "I hope that all young people, even if they don't want to be scientists, will be interested in science and in fact-based inquiry. I hope they will be curious about our world—about the natural world, the biological world, but also the non-biological world—because it's part of being human to be curious. If we're curious about our environment and want to know more about it, we'll also be curious about people and about how society works. If we use facts as the basis for making our decisions of how to interact in that world, we have a hope of making it better for the next generation."
Curious about careers in STEM? Watch our video series Careers of the Future.
This free online platform provides digital resources and classroom curricula for teachers, enabling educators to support genomic education in K-12 classrooms.
Listen to our Genomics Podcast on STEM education.