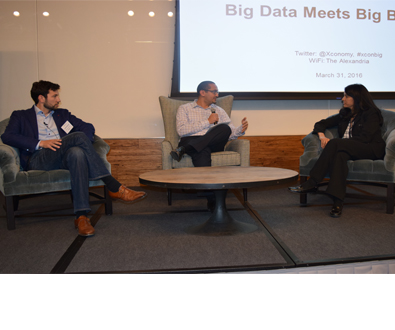 April 5, 2016
An Illumina-sponsored Xconomy event in San Diego brought together life sciences executives, investors, researchers, and software entrepreneurs to discuss the intersection of big data and big biology.
Illumina President Francis deSouza opened the event by sharing his thoughts on the topic.
"There is no 'big data' bigger than genomics," said deSouza. "Just to give you an idea, the Netflix repository is around 700 terabytes; it would hold just over 200,000 genomes. With a global population of over 7 billion, expected to grow to over 9 billion by 2050 – sequencing everyone's genome would yield roughly 5,000 times more data. This does not include the other sources of personal health-related data like phenotype information and data from personal wearables. The amount of data we are working with is BIG."
Added deSouza, "The genomics revolution is driving a massive intersection between the traditional high-tech industry and life sciences. Amazon, Google, Microsoft, IBM, Intel – they all see the big data implications of the explosion in data being driven by genomics. It's no surprise that they are engaged with genomics companies as we conduct population studies and move into clinical applications with precision medicine."
As part of the event, deSouza moderated a panel discussing venture capital funding in biotech. Lucian Iancovici, Senior Investment Manager for the Qualcomm Life Fund and Kim Kamdar, a partner with Domain and Associates, a San Diego-based healthcare venture capital firm, joined deSouza.
"We are looking for passionate entrepreneurs who understand the technological, regulatory, and analytic sides of businesses," said Kamdar. "Challenges to overcome include new paradigms in clinical trials and understanding enough data to really use it in predictive health applications."
"There are challenges in matching genomic data with phenotype data at scale. More control and automation is needed," Iancovici added.
"We have come a long way in making sequencing data generation easier, faster, and less expensive, and are getting closer to truly unlocking the power of genome," said deSouza.