Imagene Labs Takes Wellness Personally
Introduction
Conversations about genomics are no longer limited to researchers and scientists. Less expensive, yet sophisticated sequencing methods have ushered in an era where anyone can have their genome sequenced. A recent study suggests that the global consumer genetic testing market is predicted to grow 25% each year to approximately 340 million (USD) by the year 2020.1
The more researchers learn about the human genome, the more value we will derive from it. Consumers are already having their genomes sequenced to learn about their ancestry and the presence of disease-associated genetic markers. Some people view their genomes as a window into their personal health and wellness.
A new breed of genomics service is emerging, focused on providing consumers with genetic information that they can use to manage their health. Imagene Labs, a subsidiary of Asia Genomics, is a genetics-driven wellness company that provides this type of genetic testing service to its customers.
Recently, iCommunity spoke with Jia Yi Har, Vice President and General Manager of Imagene Labs about its genomic wellness services and the growing trend of consumers peering into their genomes to empower their wellness.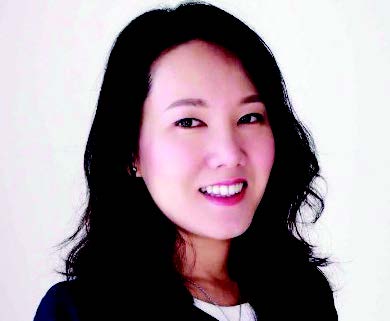 Jia Yi Har is Vice President and General Manager of Imagene Labs headquartered in Singapore.
Q: What is the mission of Imagene Labs?
Jia Yi Har (JYH): Imagene Labs provides personalized wellness through lifestyle genetic testing. We help people understand their genetics in a noninvasive way, and empower them with recommendations in nutrition, fitness, and skin care to optimize their wellbeing, and provide personalized supplement and skin care products that work just for them. We use state-of-the-art genetic analysis technology to provide these services.
Q: What is lifestyle genetic testing?
JYH: Lifestyle genetic testing uses someone's unique genetic profile to identify the specific actions they can take to feel and look their best, and achieve optimal health. Around the world, and in Asia especially, there is a growing demand for personalized fitness, nutrition, and skincare solutions.2 People want more than a one-size-fits-all approach to wellness.
Q: What lifestyle genetic testing services do you provide to consumers?
JYH: Customers can focus on diet, nutrition, skin care, or a combination of these categories. OriVIT looks for nutrition-oriented traits that concern areas like gluten sensitivity, suitable diet types, and how well someone's body processes key nutrients. OriFIT screens for key markers that influence fitness, including how easily a person's muscles repair themselves, or whether their body is naturally more inclined to power or endurance exercises. And finally, OriSKIN tests key traits that affect a person's skin, such as elasticity, pigmentation, sensitivity, and predisposition to premature wrinkling.
Q: What is the test ordering and analysis process?
JYH: A customer orders their test and we send them a kit, which provides everything needed to take a buccal swab from inside their mouth. A courier picks up the kit and brings it to our lab, where we process the samples. Within a few weeks, we publish the results on our private and secure online portal.
Q: What information do customers receive with their results?
JYH: For each test conducted, we explain the results and provide information about what the results mean. Unlike other genetic testing services, we go one step further. We empower consumers to take charge of their wellness by providing lifestyle, diet, skin care, and exercise recommendations for each trait based on their genetic results. We partner with businesses to provide customized fitness routines, beauty treatments, diet plans, etc., for our customers. Our nutrition test, for example, screens 140 genes and provides information about a customer's ability to obtain balanced nutrition and maintain their ideal weight. It also provides diet, lifestyle, and exercise recommendations to help the customer achieve and maintain that healthy weight.
The recommendations we provide are actions that customers can take immediately. We empower them to become more involved in their care, and become interested and accountable for their health and wellbeing.
"[BaseSpace Clarity LIMS] tracks samples and their associated data from receipt to results, providing us with an audit trail of everything that happens with the sample while it is in our possession."
Q: How do Illumina technologies enable you to provide these services?
JYH: We use Illumina Infinium BeadChips and image the arrays using the iScan System. We then analyze and cross-reference the variants identified against our comprehensive database using GenomeStudio Software. To track samples from arrival in our lab to results delivery to our customers, we use the BaseSpace Clarity Laboratory Information Management System (LIMS).
Q: How does BaseSpace Clarity LIMS assist your lab in processing customer samples?
JYH: It is imperative that we deliver accurate results to our customers. We developed a quality management process that BaseSpace Clarity LIMS enables us to perform seamlessly. It tracks samples and their associated data from receipt to results, providing us with an audit trail of everything that happens with the sample while it is in our possession. The online sample tracking enables us to reduce paper hard copies, which are difficult to maintain and archive. We also use BaseSpace Clarity LIMS to track our use of reagents and consumables to make sure that we are not using expired lots.
Because BaseSpace Clarity LIMS is straightforward and easy to customize, we can implement new workflows quickly, which is important for our lab.
Q: Why did you choose BaseSpace Clarity LIMS and Infinium BeadChips?
JYH: BaseSpace Clarity LIMS has a user-friendly interface and many of its standard workflows are suitable for microarrays. Illumina also provides good service and support. We chose Infinium arrays because of their robustness and reproducibility in generating data. We also wanted an array that could be customized to incorporate our variants of interest as necessary.
Q: Besides providing fitness, nutrition, and skincare advice, what do you hope that your lifestyle genetic tests offer your customers?
JYH: Despite the growing popularity of consumer genetic testing, the population as a whole still lacks information about genetics. For instance, most people don't realize they can apply genetics in the context of wellness. We hope that our services help to demystify genetics and associate fundamental genomic concepts with lifestyles and activities that people engage in every day.
More importantly, we hope to change behaviors that can negatively impact wellness, and do so in a way that empowers customers. Chronic diseases and conditions such as obesity, diabetes, and cardiovascular disease are a leading cause of death and morbidity around the world.3 Research suggests that engaging in healthy lifestyle choices, such as routine physical activity and maintenance of an ideal weight, can reduce the instance of chronic disease.4 Ultimately we hope that our services can contribute to greater awareness, and overall health and wellness.